About Us
PianoPiano is a third-generation family-owned company that's been in business for over 50 years. We pride ourselves on offering quality rentals at the most affordable prices so you can have a piano when you need it, and not when you don't.
We make it easy to play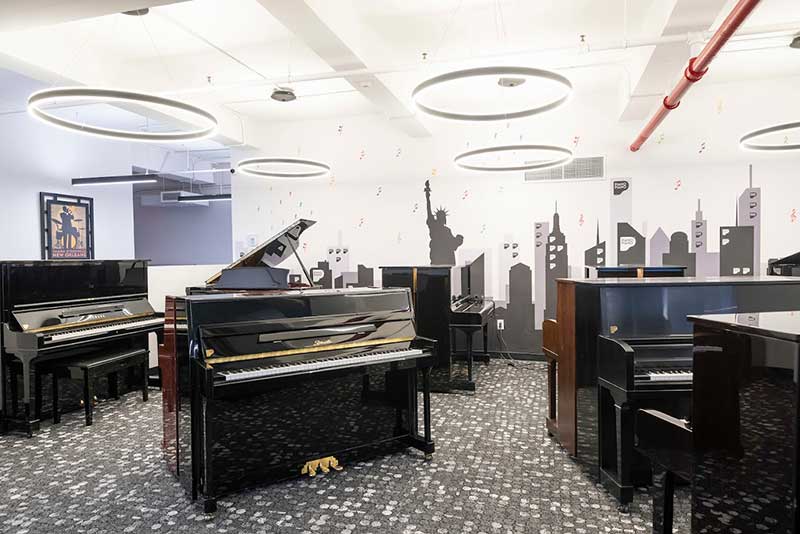 Simple Process
At PianoPiano, we make having a piano a pleasure. Not only do we deliver your piano and pick it up, we provide tuning, maintenance and everything else in between.
Guaranteed Lowest Pricing
The price you start with is the price you'll pay for the duration of your rental—no increases, no surprises, no unexpected charges. Sound good?.
Exceptional Quality
All of our pianos are in new or like-new condition, ensured by our master refinishers and technicians who thoroughly inspect every piano that's returned and restore it to its original condition—sometimes better—before being rented again.
Unlimited Exchanges
Whether you need a different size or are just looking to try something new, you can exchange your current piano rental for something different at any time and as many times as you want!
Return When You're Ready
Want to know the best thing about renting a piano? When you (or your kids) are done using it or simply don't want it anymore, PianoPiano is ready to come pick it up. Which means you don't have to worry about trying to sell it, give it away, or worse—take your perfectly good instrument to the dump because you can't find anyone else to take it. Win, win!
Buy at Any Time
That said, if at any time, you realize you actually would like to own, just let us know and we'll put 12 months of rental fees toward the purchase of the piano you're renting or any of our other pianos of equal or greater value at the guaranteed lowest price anywhere.
Piano rentals made simple since 1975
Since 1975, we've been renting pianos that are both high in quality and highly affordable. Through our 45 years of meeting with designers and craftsmen all over the world, and playing all the pianos we could find, we've gained the insight and expertise not only on what makes a great piano but how to select the best ones that will deliver the best value to our customers—so you can play your heart out without emptying your wallet.
Our pianos have been played everywhere from Carnegie Hall to The Top of the Rock and a gazillion Broadway shows in between. And, whether we're renting to a large company or a small family, it's our privilege to make quality pianos accessible to anyone who's as passionate about playing as we are.
Jerry
PianoPiano founder and bona fide piano expert, Jerry got an early start in the piano business helping at his father's shop in New Jersey when he was a child. After being drafted into the Army in 1952, Jerry was able to hone in on his attention to detail and how things work which later contributed to his success in the piano business.
Sarah
Jerry's daughter and president of PianoPiano. Though Sarah quit piano lessons early on, she's rekindled her love for the instrument through years of helping to bring music into people's lives and is currently making up for all her missed lessons.
Supporting the community through music
At PianoPiano, we don't just rent out pianos, we support music education and celebration every way we can, including: live radio performances, music festival and competition sponsorships, partnering with not for profits, and much more.